A Thought or Two is a series of blog posts based on, well, my thoughts! These are based on my experiences, my opinions, and my beliefs. These posts may not always make entire sense, but there's always a chance that maybe one single person is going to take something from it, and that potential is enough for me. It's also nice to touch base on topics that have been on my mind, and hear what others have to say - please do share your own opinions and thoughts in the comments (kindly though, of course!) Thanks for reading!
•••
I've recently noticed a disturbing trend online of people tearing celebrities apart by means of poorly written, sarcastic paragraphs posted on the celebrities' facebook pages or on tumblr. These comments proceed to get tens of thousands of 'likes' and comments debating between fans and haters, often getting nasty at
each other.
Now, I totally understand a snide comment or even a brief discussion amongst friends, maybe even a few laughs and eye rolls at a celebrity's expense. I'm guilty of it myself! We all have opinions and it's nice to voice them and discuss them now and then - even when they are negative opinions.
What I don't get though, is why someone would take the time to go to the celebrity's page and publicly denounce them. And not even with simple, crude little comments, but with lengthy, thought out mini-essays filled with wanna-be clever remarks. Well sorry, but you don't sound clever. You sound like an incorrigible Negative Nancy who has way too much time on their hands.
Why does Avril Lavigne and Chad Kroeger's mutual musical mediocracy cause so much outrage over their engagement? Why would they deserve comments about 'the imminent ugliness and lack of talent of their future children'? They are engaged. Thus, two more people on this planet have found happiness with eachother. That is a good thing, a freakin' beautiful thing, regardless of who they are as celebrities.
And how about all the Nicki Minaj hate? It is still unclear to me why someone would suggest she 'fall off the face of the earth / kill herself' and call her 'a shameful excuse for a human being' just because they don't like her music and her style? It's not like she kicks puppies around and throws kittens off bridges or anything... You know what I think? Good for her for stepping outside the box in such a public manner, with such a critical audience. Good for her for making a one-of-a-kind persona for herself and for trying to do her own thing. It's far more interesting than all the glossed up clichéd female celebrities out there trying to blend in and be a traditional version of 'sexy'. I'd love to see the rest of us make such a bold statement, especially under the immense pressure of celebrity-hood.
I just don't understand why people take such offence to things so unrelated to their own lives. I highly doubt Avril and Chad are getting married for the sole purpose of pissing us all off. And let's be honest, they're actually kind of adorable: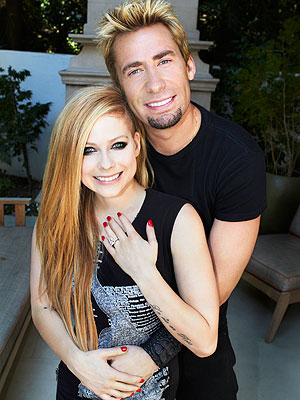 AWEHGDKHJKDG
Admit iittttt, this totally makes you want a big loving hug like that, doesn't it?
No?
So I'm just a sappy sap face then?
Oh, okay.
What are your thoughts on celeb shaming? I know it's become part of our culture with tabloids and stuff, but those people get paid to write those articles. The people I'm talking about post them just because, perhaps to let out internal anger and a hatred towards life itself? Ok that's a bit dramatic, but whatever.
xo